Just sharing this
Free People Sweepstakes
really quick! They have some amazing designs (I'm still pining over this
dream summer dress
- not that I could afford it, but if it were still in stock, at least I could legitimately fantasize over owning it!), and with this sweepstakes you can win your wishlist for up to a $1500 value.
Four other winners will get a $250 Free People gift card. Not much to lose :)
Here are some things I already added to my wishlist:
I think the gold + black sakura combo on this Noir Velvet Tunic is super fun and funky.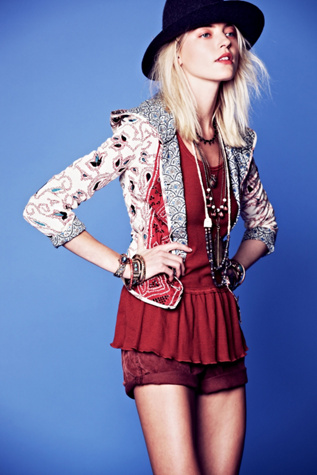 Okay, so my list easily goes on and on. I mostly veer toward their tops and outerwear, though they have some really nice bags and dresses too. I haven't seen as much in their pants and skirts sections that I really loved, but that may also be because buying bottoms is so much harder when you can't try them on. As always with buying online, you want to read the reviews as well, because the posted picture can look very different from the actual product.
In the case of returns, Free People makes it easy for you by including a sticker in your delivery, but the cost of $5.95 is deducted from your refund. Due to the hefty prices, I have yet to purchase from Free People, but I have done some serious eyeing since I first came across their incredible dresses.
Winning a $1500 sweepstakes would be a great intro to the brand though ;)
Make sure to enter by November 19th, when the contest ends! A winner will be chosen on the 23rd and should be notified by the 26th. You can refer up to 10 friends/family for additional entries. See
official rules
for more detials, and good luck!