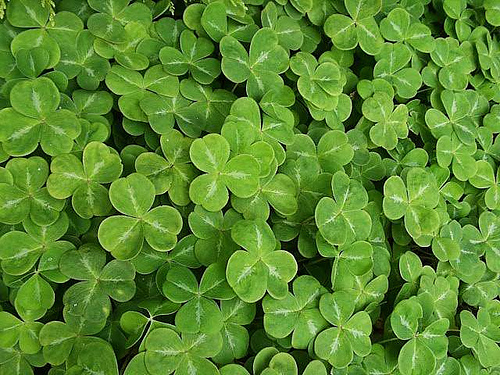 A.k.a. Don't forget to wear your piece of green come Sunday, March 17th!
As a day of green, I say go out and enjoy fresh food and fresh air, even as you indulge in a few spritely shenanigans.
In honor of St. Patrick's Day, here's a little snippet on the origin of the holiday via the History Channel website, followed by some gorgie pictures that makes us all wish we hailed from
Éire - anyone want to give me some Gaelic lessons?
:
St. Patrick and the First St. Patrick's Day Parade

Saint Patrick, who lived during the fifth century, is the patron saint and national apostle of Ireland. Born in Roman Britain, he was kidnapped and brought to Ireland as a slave at the age of 16. He later escaped, but returned to Ireland and was credited with bringing Christianity to its people. In the centuries following Patrick's death (believed to have been on March 17, 461), the mythology surrounding his life became ever more ingrained in the Irish culture: Perhaps the most well known legend is that he explained the Holy Trinity (Father, Son and Holy Spirit) using the three leaves of a native Irish clover, the shamrock.

Since around the ninth or 10th century, people in Ireland have been observing the Roman Catholic feast day of St. Patrick on March 17. Interestingly, however, the first parade held to honor St. Patrick's Day took place not in Ireland but in the United States. On March 17, 1762, Irish soldiers serving in the English military marched through New York City. Along with their music, the parade helped the soldiers reconnect with their Irish roots, as well as with fellow Irishmen serving in the English army.
Picture time! Click through to view full-size:
Kilkenny, Ireland. (c) Edward Dullard
Gorrrrgeous picture that deserves to be viewed full-size.
Cork City, Blarney Castle
via Frommers (c) Ray Lawson
Glendalough, Ireland via Blue Pueblo
Can't find the original photographer :( Send me if you know!
Idyllic Ireland
via this page I can't read...
Now some tunes to carry you all away. Enjoy!
(For those who want to look further, you can check out these playlists: AOL's Top 10 for the rock-oriented, Irish Central's Top Ten for a well-rounded assortment of YouTube videos and reasons of relevance, BHG's 9 Irish Songs for the traditional.)